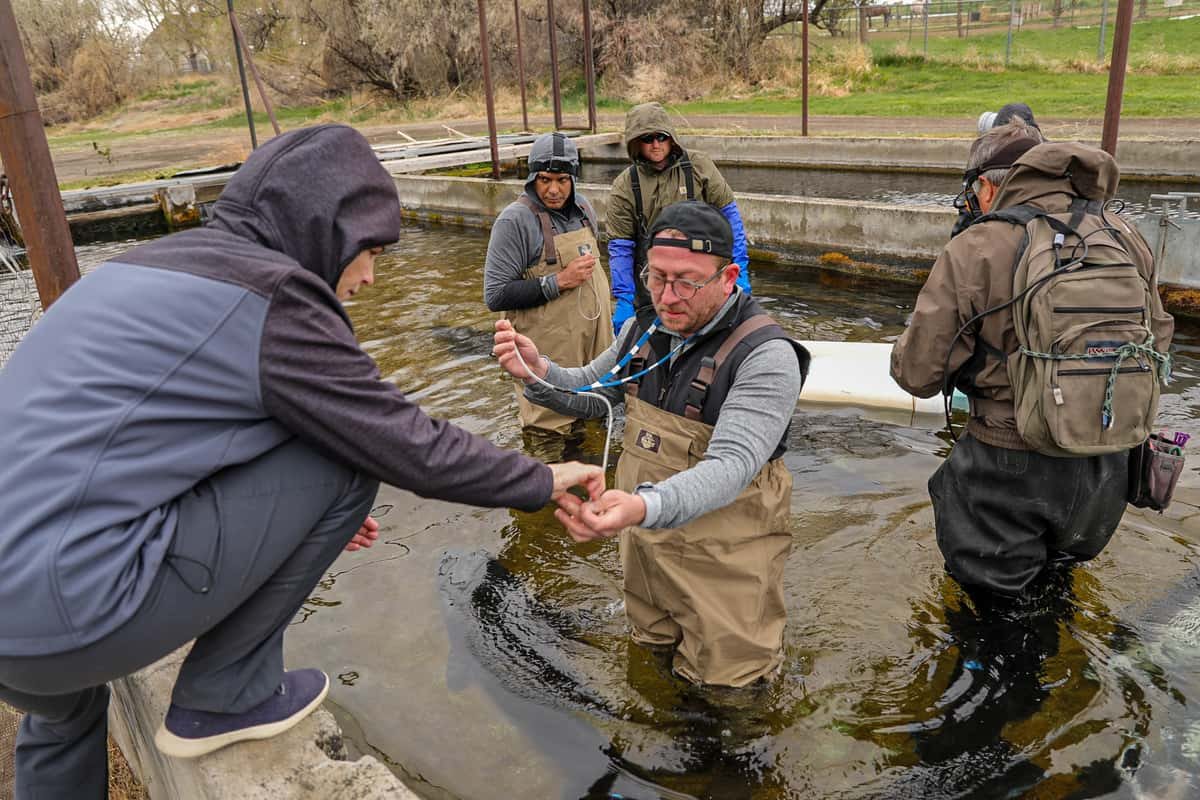 Berg Hospitality Announces Launch of Custom Royal White Sturgeon Caviar & New Caviar Service
Berg Hospitality Announces Launch of Custom Royal White Sturgeon Caviar & New Caviar Service
A longstanding delicacy and luxury food staple, caviar has a certain mystique about it that may seem unapproachable to the average consumer. Founder & Owner, Ben Berg, has had caviar on his radar as a possible lane to further develop within Berg Hospitality's concepts for years. Together with California Caviar Company and owner, Deborah Keane – the "Caviar Queen" – we turned that thought into a reality when Ben and VP of Concept Development, Sean Mohammed, traveled to Idaho to harvest Berg Hospitality's first supply of our custom Royal White Sturgeon caviar.
We are incredibly proud of the quality of this product as well as our partnership with California Caviar Company (CCC) and Deborah, who has an amazing resume of her own.
"A renowned tastemaker and caviar master has built a complete, vertically integrated spawning-to-serving enterprise. In a rough and tumble business, the Boston-bred Keane has defied the odds and has broken the ceiling by becoming the first female owned and operated caviar company in the world as well as the first female fish farm owner in state of California."
CCC is also the first company in the country to only sell sustainably-produced caviar.
"The genesis of California Caviar Company was a direct response to consumer demand for a safe, reliable purveyor of high-quality caviar. Our mission is to provide a premium sustainable product that is controlled and guaranteed so our clients can trust and trace every egg from tank to tin."
– Deborah Keane
When wild caviar was banned world-wide in the early 2000s, there was a major shift in the market. The reliability of available sources turned questionable and prices skyrocketed due to demand. This led Deborah to her own farming of sturgeon – where every jar of caviar can be traced back to the exact fish of origin. Over the years, her process has become the subject of envy and intrigue.
White sturgeon takes up to 10 years to start producing eggs. From the start of production, there is a specific window in which eggs are then viable for consumption at the highest quality. A perfect storm can create roe fit for a king; however, there can also be harvests with little usable product.
Ben and Sean learned the harvesting process firsthand from start to finish. From hand-selecting the sturgeon to extraction, their experience resulted in our unique mixture of roe that is sure to impress. Deborah assisted with our team's in-water biopsy, where Ben and Sean stood in the mineral-rich aquifers amongst these prehistoric creatures, which can grow up to 16 feet long and weigh up to 800 pounds. The egg extraction process begins with a small incision near the ovaries without harm to the fish. A straw-like tool is then inserted so that an egg sample can be sucked out and tested for taste and size. Starting with a high-quality product with a certain taste and texture helps to predict the final salted roe that ends up in the restaurant.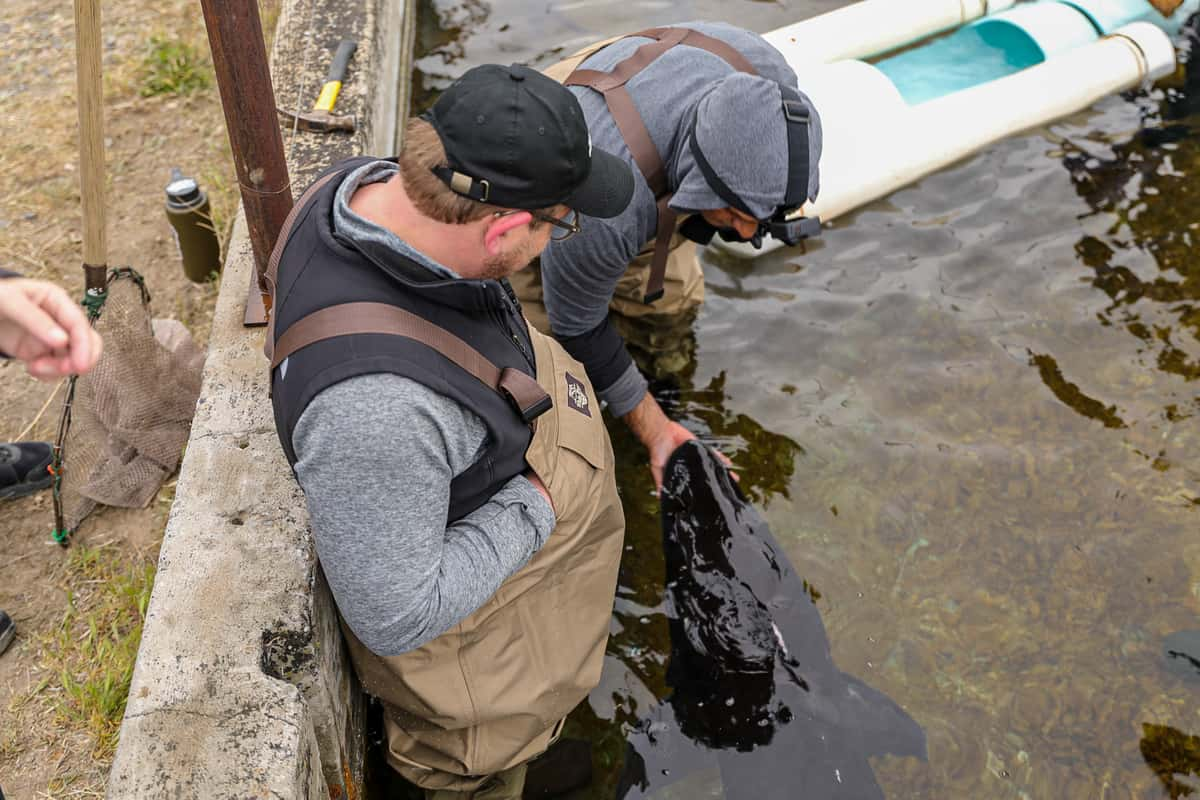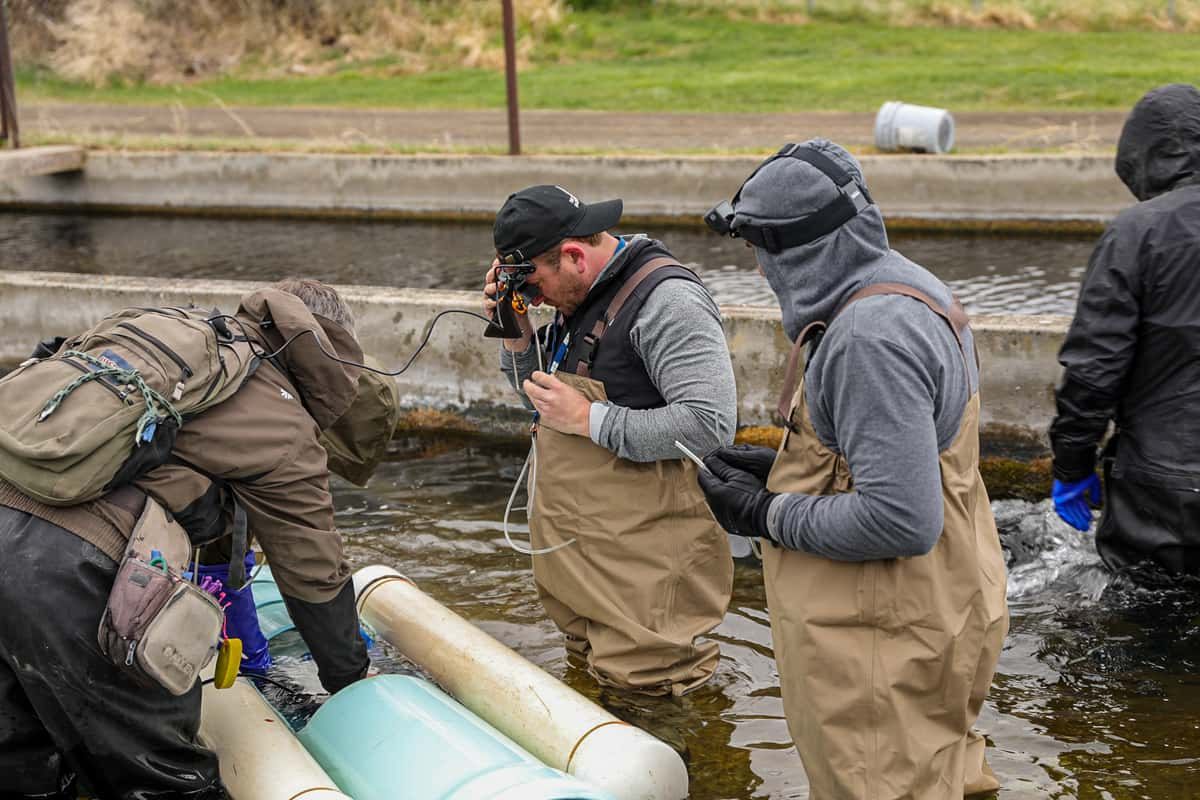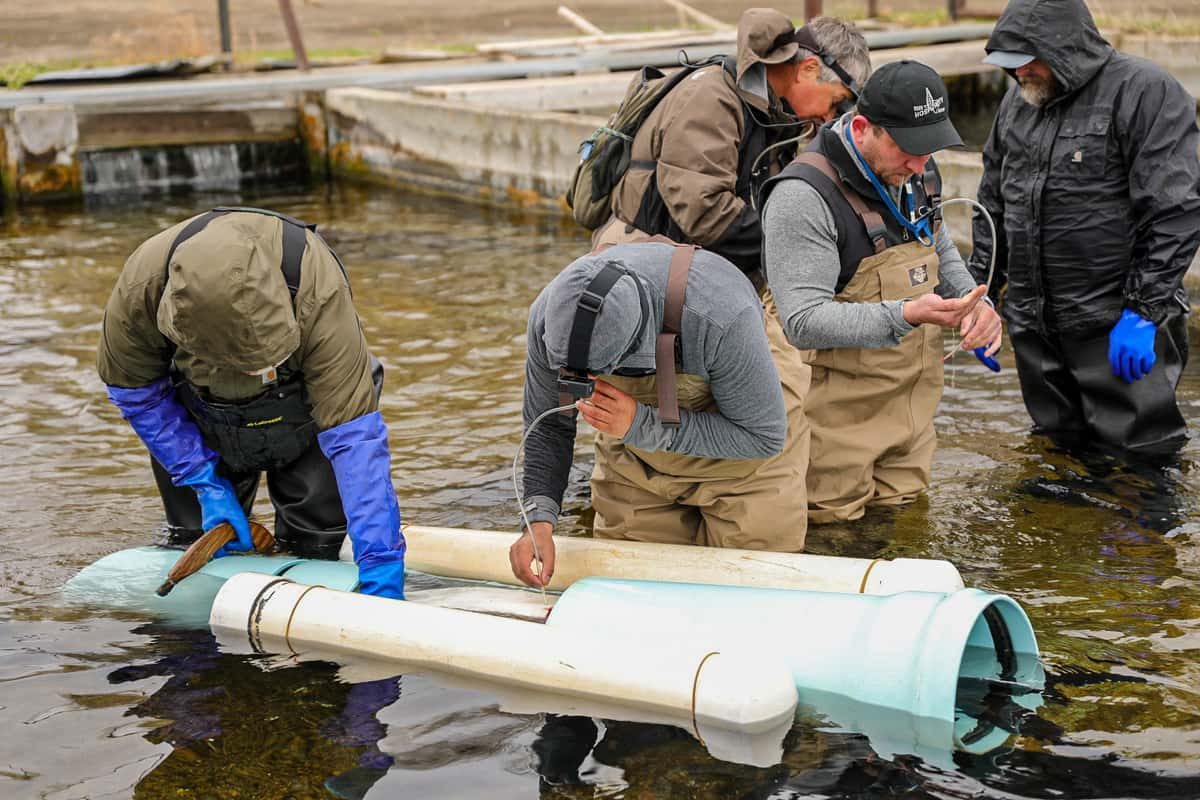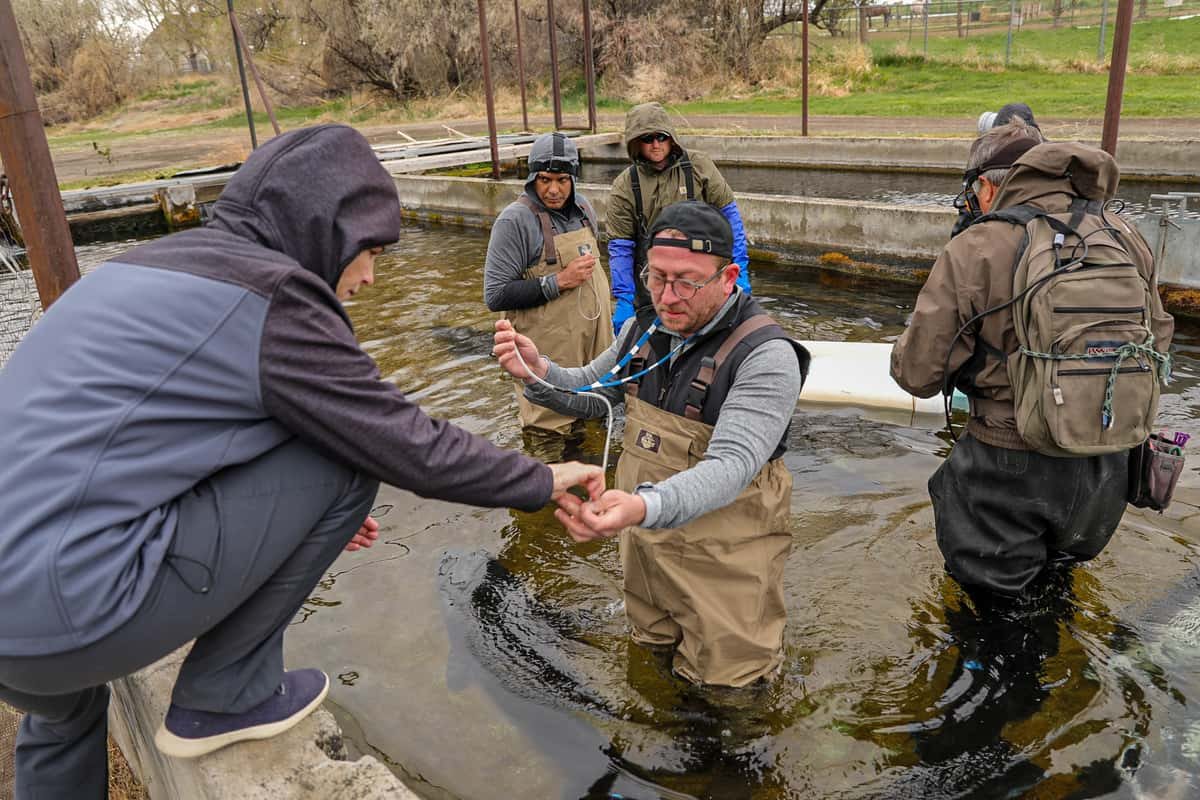 After selecting our white sturgeons, we moved into harvesting. Extracting or "stripping" the eggs comes next. Sturgeons typically have two egg sacks, and once they are extracted, the rest of the fish is harvested for meat and other by-products. From there, the eggs are moved to a climate-controlled room where the real work begins. Timing is crucial to optimize outcome – the entire process from extraction to packaging must take the shortest amount of time as possible.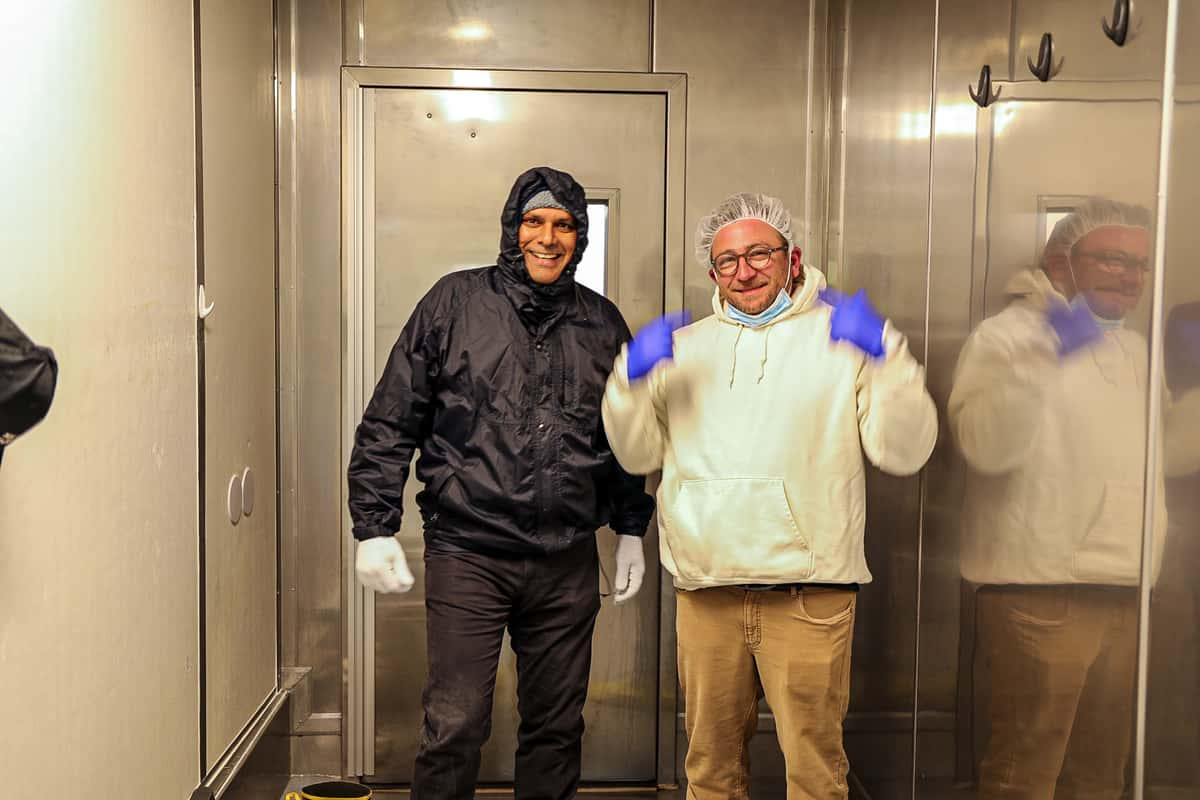 Ben and Sean first screened the eggs on a mesh sieve to separate the eggs from the membrane. A thorough double-wash is then performed to ensure all bodily fluids or particles are removed from the marbled eggs. The water that is mixed with the eggs is visibly clouded with particles, which is how one measures when the process is complete. Once the eggs are visible through clear water, the most tedious part of the process begins. Ben and Sean spent roughly two hours alongside Deborah hand picking broken eggs, excess membrane and any other impurities from the eggs with tweezers. "I would equate this process to picking out grains of sand from other grains of sand," said Sean.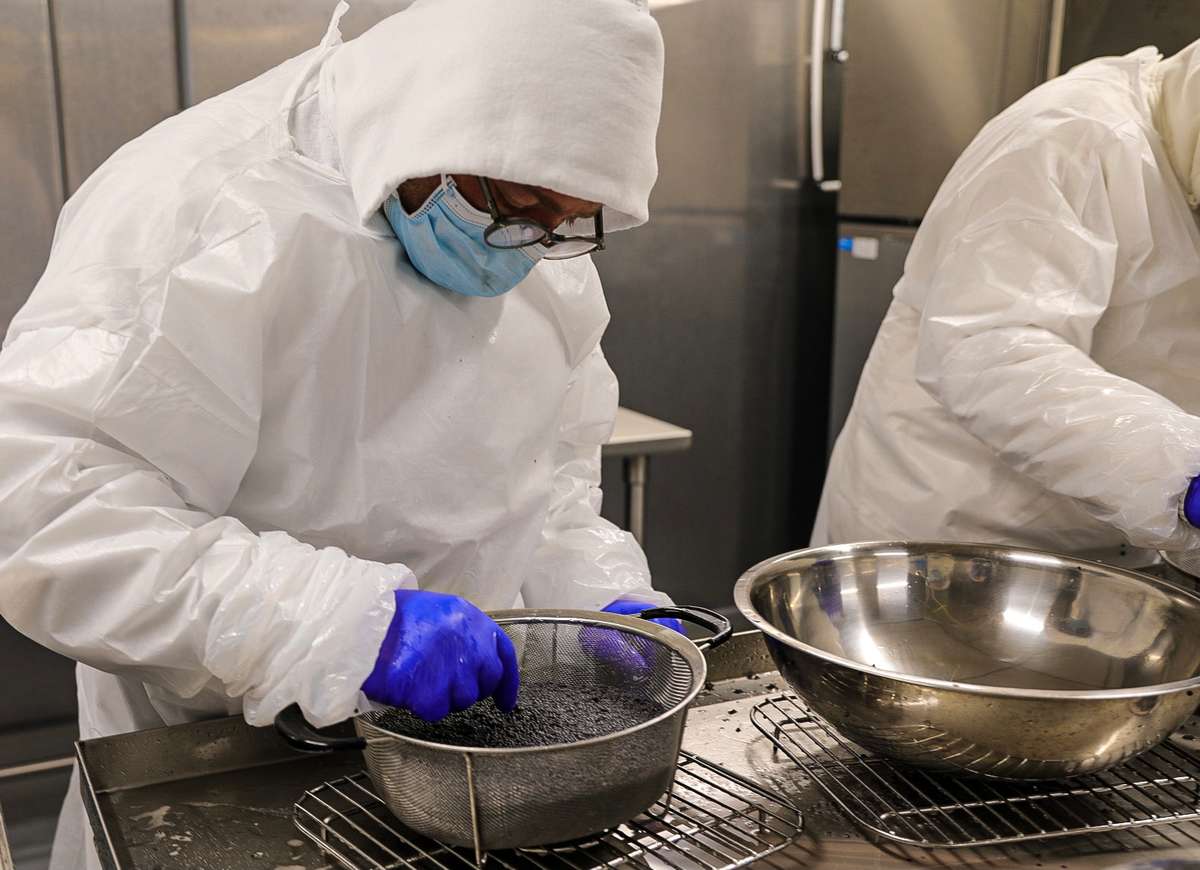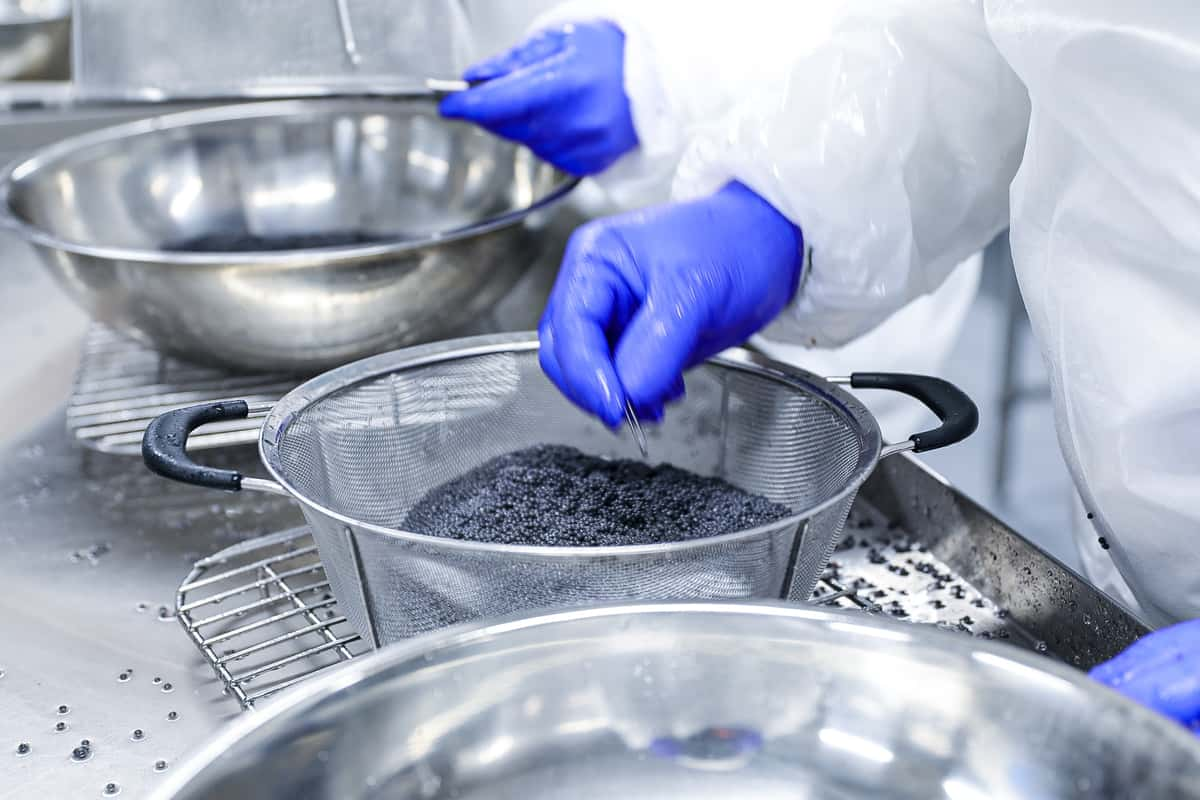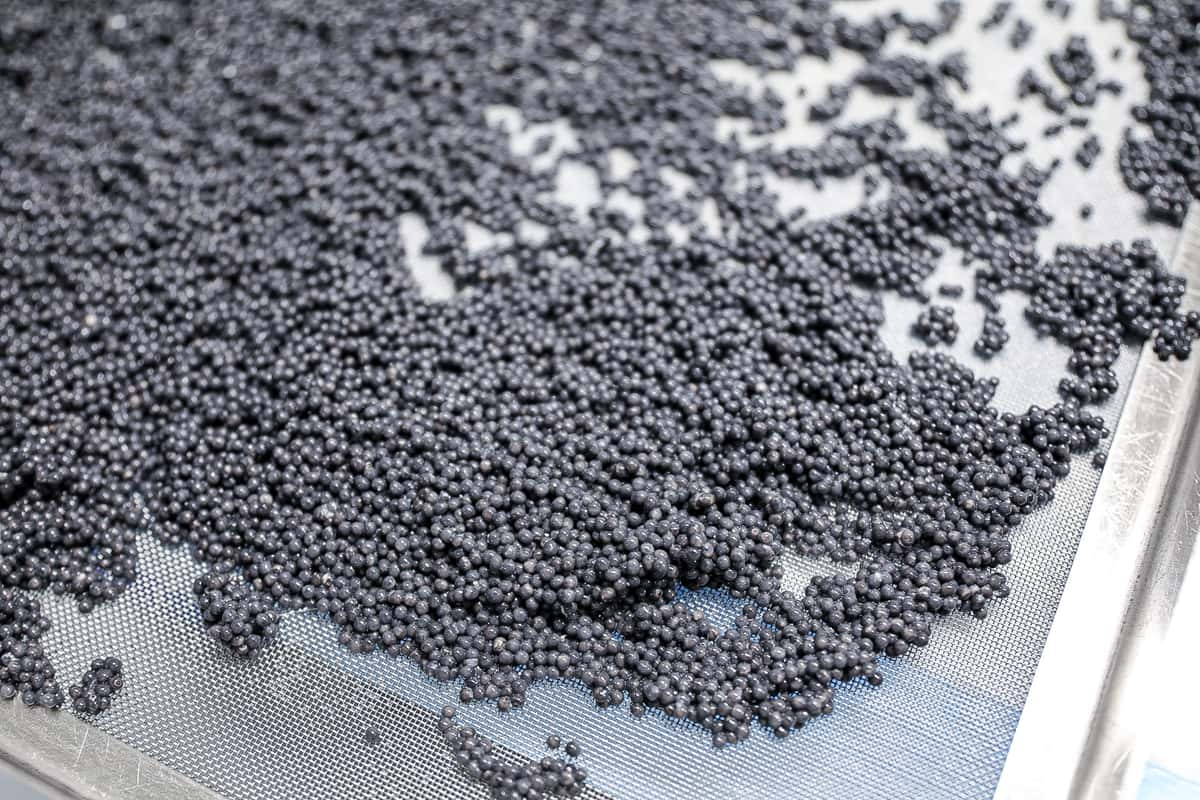 This cleansing continued until all parties were satisfied with the coloring of the remaining eggs. Our harvest alone between two fish was roughly 20 kilograms (44 pounds) of caviar. "I've never seen so many fish eggs in one place than on this day," said Ben.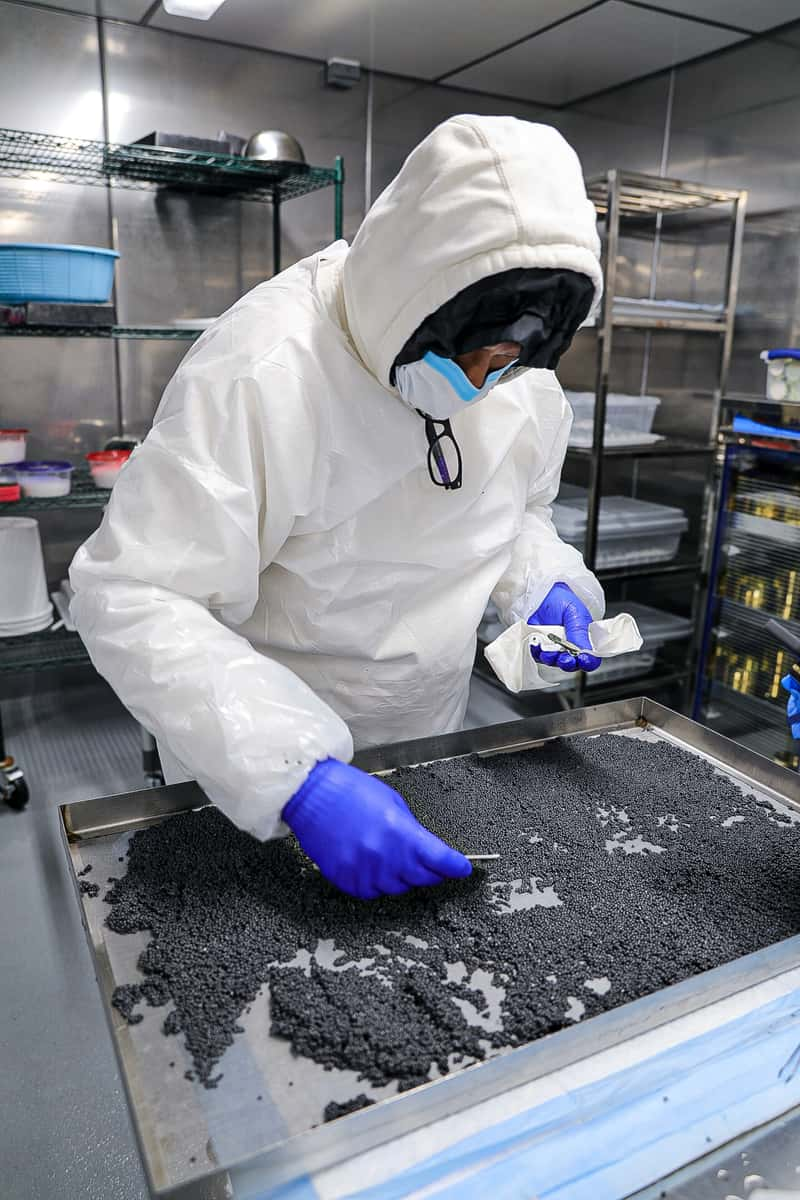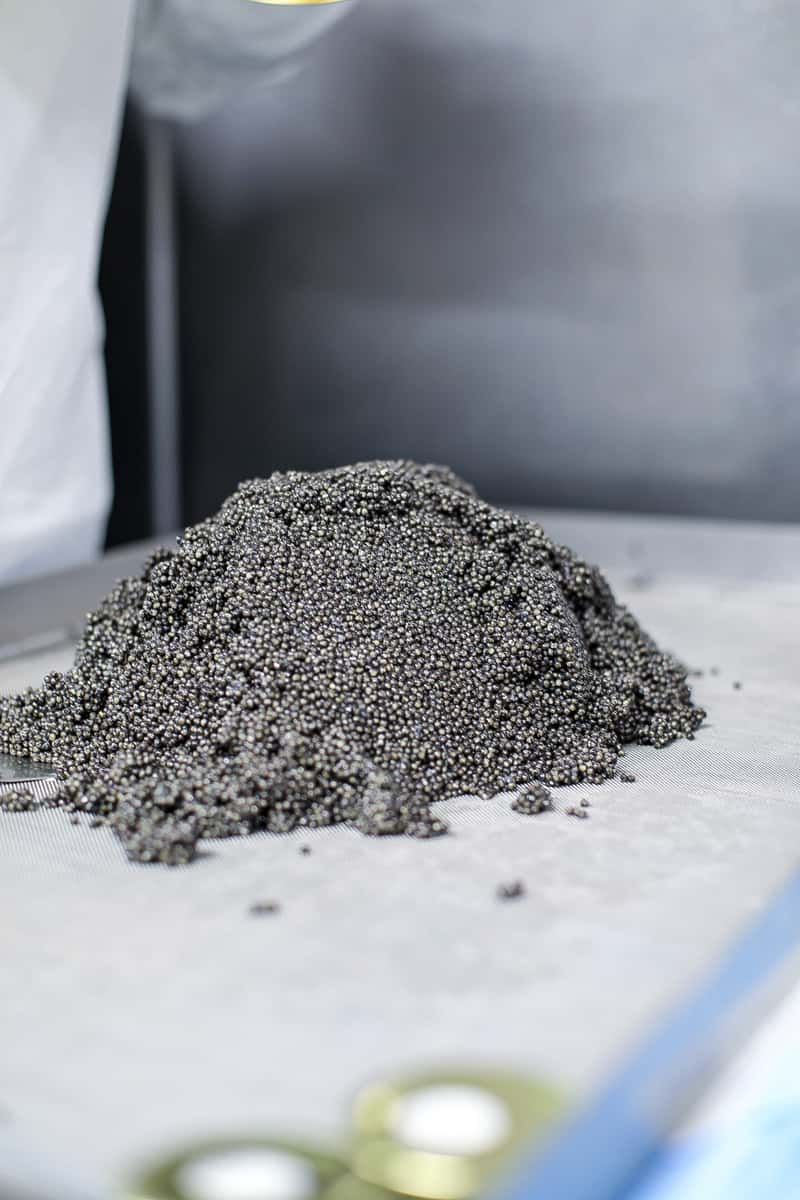 All the eggs remained organized based on the fish they came from to ensure tracking. Deborah assisted in measuring out the salt based on the preferred taste profile we were seeking. The mixing process takes a certain technique and eye, a trademark specialty of Deborah.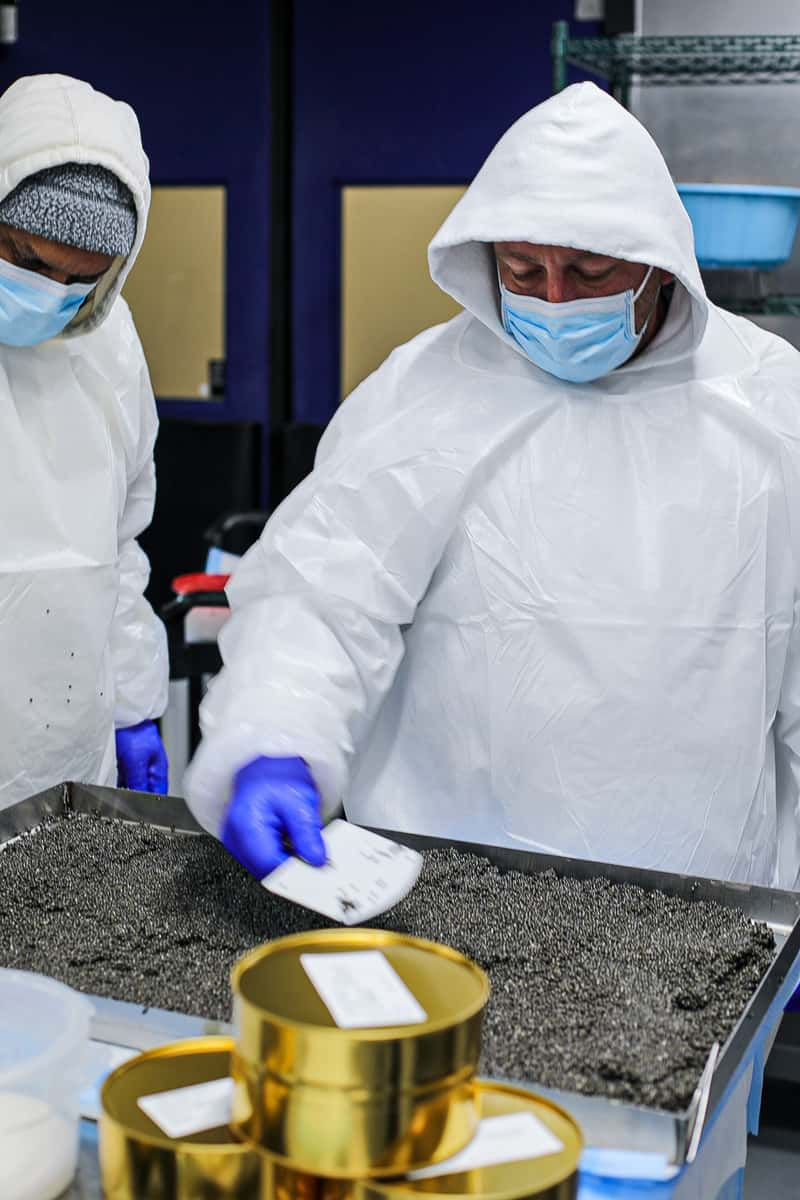 Once the mixture was complete, the roe was laid onto a tray for a final inspection, and a sample was taken for grading purposes based on size, color, texture and taste. Our team finished the harvest by putting the roe into large cans for a short aging period, and the final product has now been re-packaged into our branded 1 oz. containers.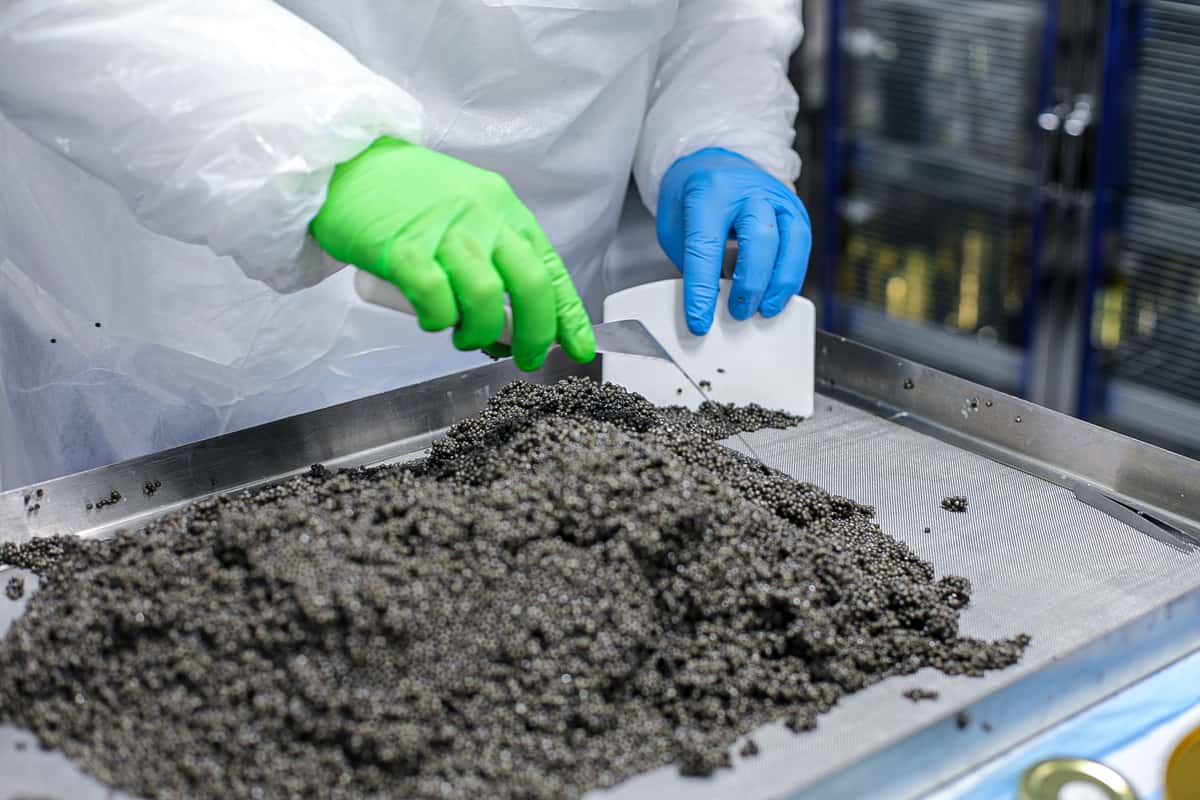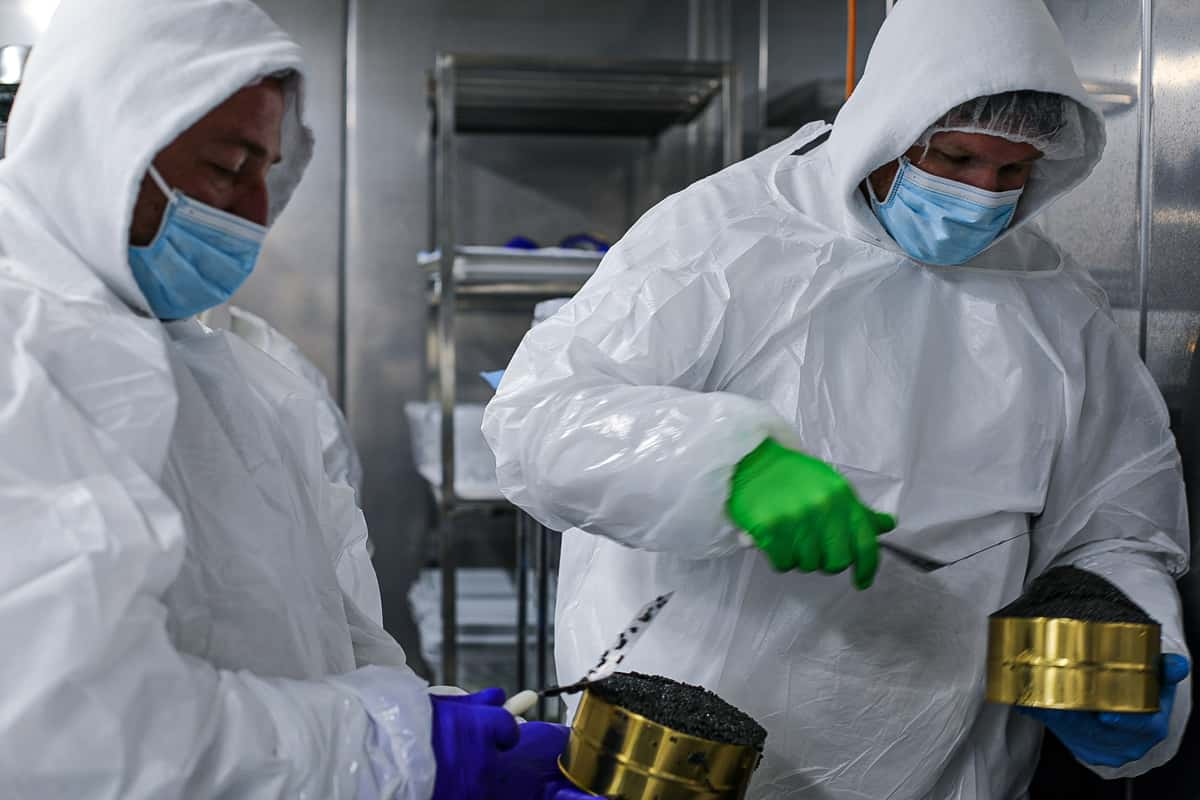 Launching Saturday, July 17th, our custom Royal White Sturgeon Caviar will be offered permanently as part of the curated caviar service at select Berg Hospitality restaurants, including B&B Butchers & Restaurant in Houston and Fort Worth, The Annie Café & Bar and Turner's. Available in 1oz jars for $95, each restaurant will offer a unique caviar presentation and pairing. With all the time and effort we've put into creating this product, we are thrilled for it to officially hit our dining rooms.
In conjunction with National Caviar Day on Sunday, July 18th and to celebrate the rollout of our custom caviar, Berg Hospitality is hosting the following events:
6-Course Caviar & Wine Pairing Dinner
Sunday, July 18th | 5:30pm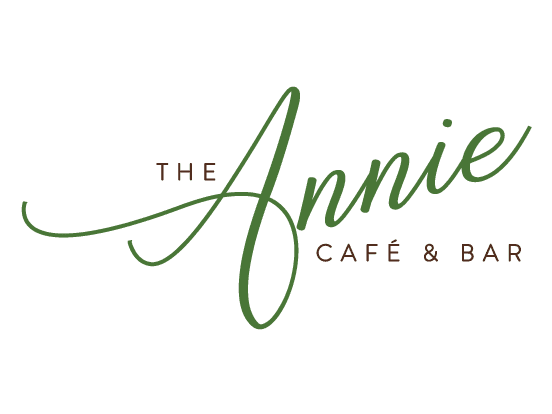 The Ultimate High Tea & Caviar Soirée
Saturday, July 17th | 2pm