Houston's Latest Instagram Worthy Brunch
If we're honest about great food, presentation is all part of the experience as much as decadent, explosive flavors. When attending brunch, part of the fun is commemorating the experience by taking snapshots of how luscious each dish and drink looks when set down on the table before you. At Berg Hospitality, we can give you a few ideas on how to make sure your posts fully show off Houston's most Instagram worthy brunch!
Blue Crab Beignets at BB Lemon
Have you experienced New Orleans comfort food like beignets from the legendary Café de Monde? What about fresh blue crab shipped straight from the Gulf of Mexico? Combine the two with a zesty dipping sauce and you get a truly one-of-a-kind brunch item the whole table can sample. Trust us – these savory lollipops knowns as Blue Crab Beignets on the BB Lemon brunch menu will make your Instagram followers pause their scroll. The picturesque outdoor seating also reaffirms BB Lemon as one of the cutest restaurants in Houston to take pictures.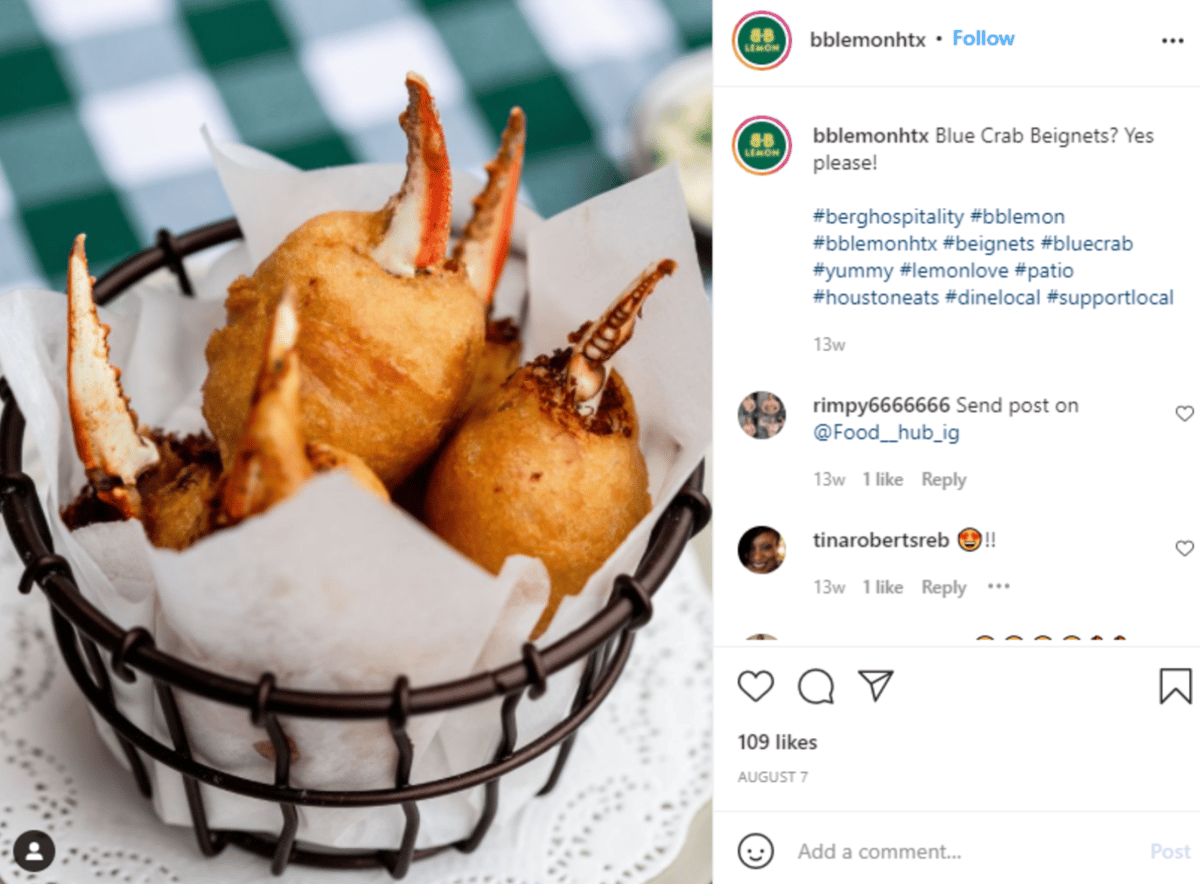 Carpet Bagger at B&B Butchers Sunday Brunch
One of B&B Butchers most popular appetizers is the Carpet Bagger on the Half Shell, which consists of fried oysters and thick-cut bacon topped with bleu cheese crumbles and hot sauce. It only makes sense that the B&B Butchers brunch menu has expanded the demand for this dish by offering two variations: Carpet Bagger Benedict served on an English Muffin, as well as the Carpet Bagger Burger, featuring Berg's signature beef patty with all Carpet Bagger trimmings and a side of wedge fries. If you're searching for a fun, fancy brunch in Houston, look no further.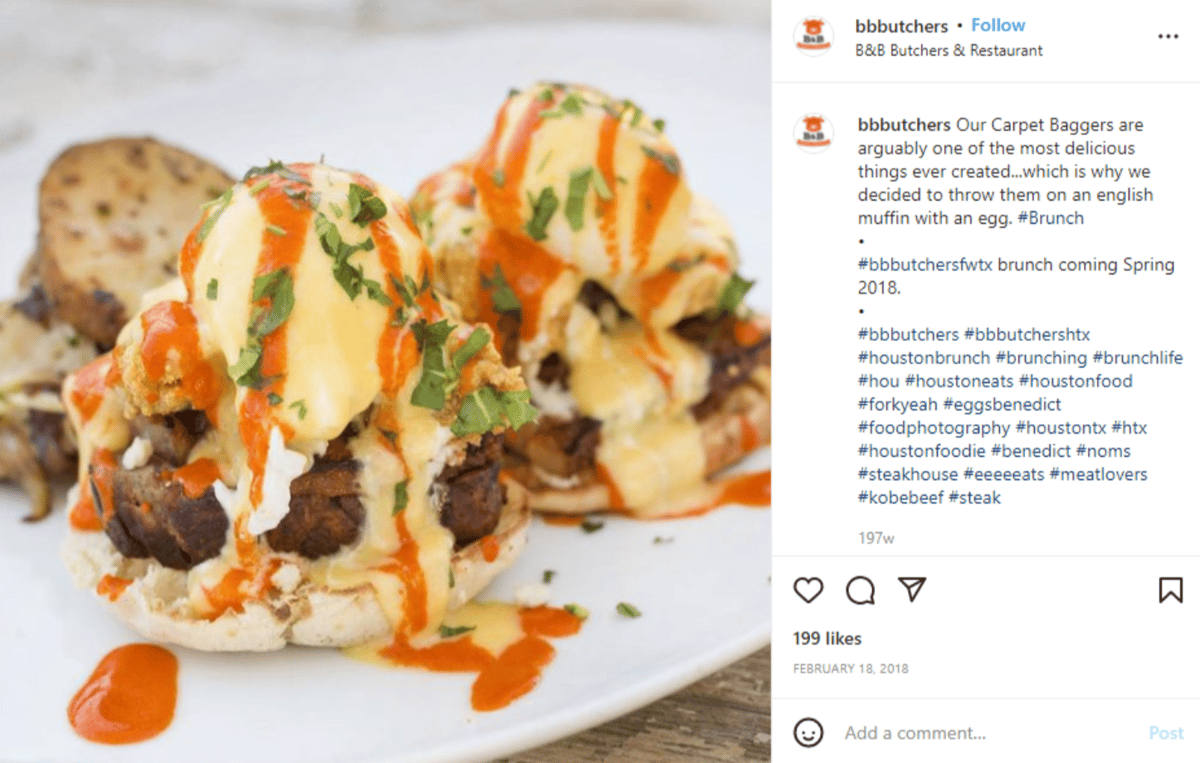 Crème Brulee French Toast at NoPo Café & Market
Yes, yes, there are a million cute brunch places in Houston, but none as new as NoPo Café, Market and Bar. This latest H-Town hot spot in the North Post Oak neighborhood just past Uptown features a cool, chic ambiance with plenty of indoor and outdoor seating, including counter service in addition to their traditional brunch with waiters. Our pick on what to order? The Crème Brulee French Toast on the NoPo brunch menu is made from scratch with house-made brioche, topped with a mixed berry compote and a side of aged maple syrup. The dish is destined to start a breakfast revolution.
A Dreamsicle at The Annie Café & Bar
If you've never been to the The Annie in Houston since Berg Hospitality took over and underwent a full renovation, prepare to be impressed. Bright and elegant everywhere you look, you'll feel as if you're dining at a 5-star celebrity wedding. Their brunch menu of signature cocktails are masterpieces in mixology, with our top recommendation being the Dreamsicle, expertly combining white rum with orange Mathilde XO and a blend of vanilla, cream and lemon. If you're looking for an abundance of social media likes on your feed, The Annie just might be the most Instagram worthy restaurant in all of Houston.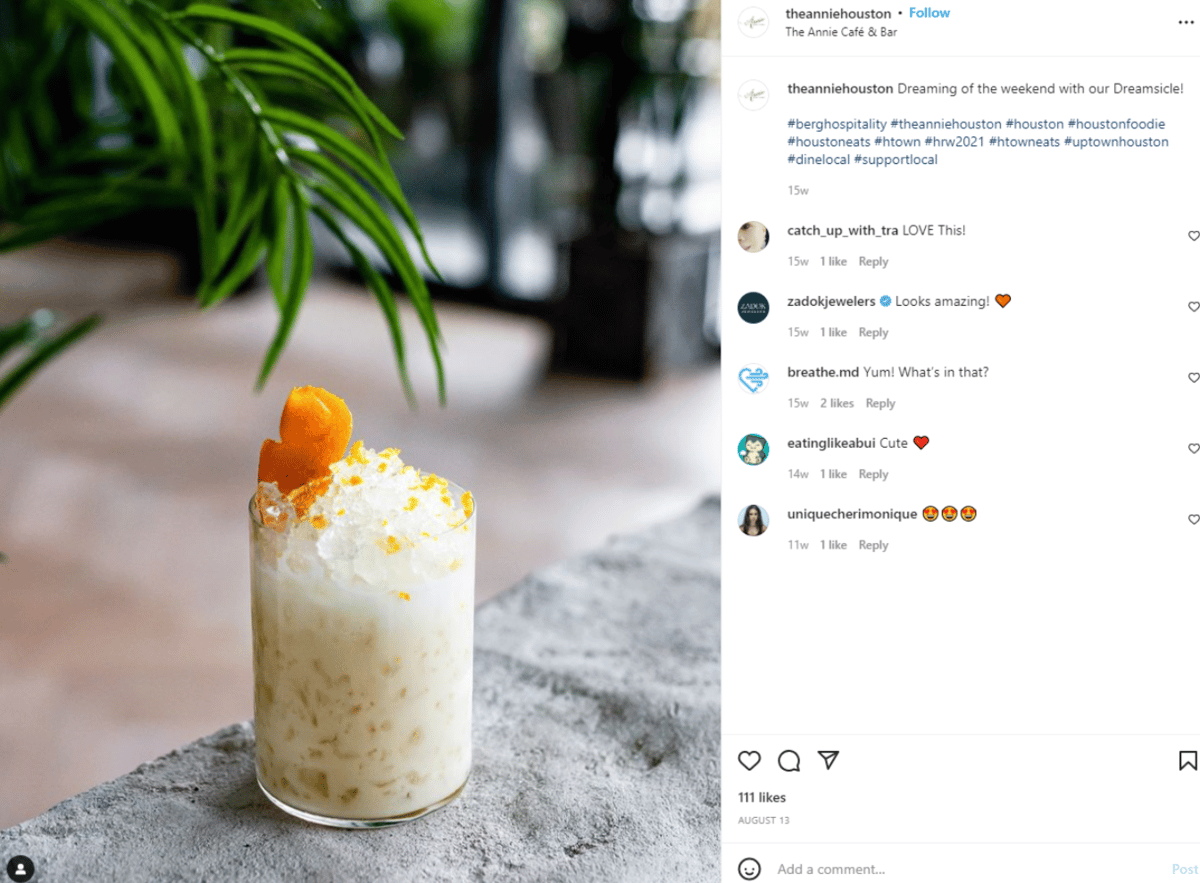 Most Instagram Worthy Brunch Spot? Berg Hospitality for the Win
At this point, you've seen evidence of what Houstonians love to post about the most. The only thing left for you to do is make a reservation at one of these cherished restaurants on the Houston dining scene. They're all Berg Hospitality approved of course.